Unfortunately I can't do that.
I tried.
I bought 2 kilos of granulated sugar at 99p each and a kilo of Seville oranges for £1.99, from my local greengrocers, the Broadway Fruiterer in Crouch End (lovely old-fashioned name). Plus two lemons for 60p.
I used River Cottage Pam the Jam's method and boiled the whole fruit for two and a half hours in two and a half litres of water
at a steady simmer
. I halved the now softened fruit, poked out the pips, and sliced the peel into fine strips. Removing the pips was a bit of a chore, but handling the tender, squishy pith was quite pleasurable.
Then I topped up the water to 1.7 litres, tipped in the pulp and peel and poured in two kilos of warmed granulated sugar. Plus the juice of two lemons to ensure the right level of pectin. (I added in a little extra, because when I did the methylated spirit test for pectin, the liquid didn't clump.)
I placed the temperature probe in the preserving pan and waited for the alert, knowing that when my concoction had reached 105 degrees C, the setting point of 104.5 had been reached. This made for a rather relaxed marmalade making session: the probe meant I could actually leave the pan for half an hour, confident that the resulting marmalade would set.
It did and this is how it looked.
But then there was the stress of working out how much it cost. In the end, I made 3040g of marmalade and spent £4.57. Or to put it another way, each 100g of my marmalade cost 15p. But that's still more than Waitrose's Essential Fine Cut Seville Marmalade which at 55p a jar, costs 12.1p for every 100g.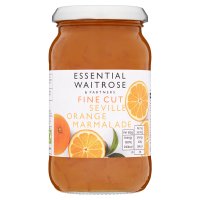 How can they do that?!! My costs didn't factor in the three hours' use of gas or the considerable labour, and that was using the whole fruit method. (Cutting up the peel before being softened is even more effortful and time-consuming.) The jars were free, since they were recycled. I hadn't included the industrial chemicals in the Waitrose version:
citric acid, gelling agent pectin, acidity regulator sodium citrates, firming agent calcium chloride.
However looking at their ingredients, their marmalade contained 26% fruit, whereas mine contained 33%, and while their sugar content at 63% was roughly equivalent to mine, this included glucose-fructose syrup, or corn syrup as it is known in the USA. Corn syrup is cheaper than sugar and is a much used ingredient in processed food; it is not so easily digested by the body and research has suggested that excessive consumption can lead to obesity.
I'm not saying that consuming large amounts of Essentials Waitrose Marmalade will make you fat; that is the nature of sugar! But I feel more reassured, pleased even, that I failed the budget marmalade challenge. All my ingredients were natural and my citric acid and pectin came from the fruit itself. Moreover I did not have to resort to cheap, potentially harmful substitutes and I know my marmalade will not go off, because of the way it has been prepared. That's why it is called a 'preserve.'
Or to put it another way, for well under a fiver, I made over eight jars of delicious marmalade, with complex flavours and a lovely consistency.
And with a bit of tweaking and little extra cost, I can add a splash of whisky or a few grams of stem ginger to make my own Wastelady speciality.
Now that's a premium product.